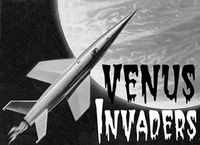 Venus Invaders...I'll come aboard ya!

Well, well...Now that the invaders have left I am able to post at last. It was a rough go of it there for awhile...what with the making of alien sandwiches and tea...but I am alone once again.
Because, of course, if I had not been captured by aliens I would have never left my diary for so long. I mean, the thought of not updating the comings and goings of my fascinating life are simply unthinkable!
So, I'm back.
As you can see, due to extreme time constraints (there, there boy, shut up...) for my web master/brother/hoster-extraordinaire he is no longer able to host and update my site. So, I am forced...nay, violently wrenched...away from my precious site and stuck with using this generic "web-blogger". Could the fates (aka my brother) be so cruel.
Ok, melodrama aside, the boy is hurtin' for time, and got sick of me calling about updating my site. So, here I am...deal with it.
Oh, Happy New Year to one and all. It was a rough go of it in 2004, and I wasn't quite sure I was going to get through. Last semester was grim. Grimy grim. Grimy grim in an old-fashioned Grimm story kind of way. Too much work, no time, tension in the house with roomies, not a lot of contact with friends and family. However, it is over! I came out of the semester with livable grades and a better attitude for the new year, and us roomies are still best kind.
So, now I'm in the home stretch...Only 2 more semesters to go for the ol'Bachelor's Degree!! I could have finished it in one, but do not want a repeat of the aforementioned "bad times" of last year. So, I'll finish in Aug. 2005, and hopefully start the Master's Program in Folklore the following Sept. Then it's about 2 years to finish that, and later I may end up in the University College of Cork, Ireland to get my Ph.D.
Right now the Folklore Society (of which I'm still pres.) is starting it's planning for the Mary Griffiths Night, an event that raises money for the Mary Griffiths Bursary and hosts a lot of local musical talent, and some mixers and fun stuff. I'm also planning to go to FSAC...the Folklore Studies Association of Canada conference in May. This is exciting as it would be the first conference I've attended in my field.
The highlight of all highlights...Crystle is coming to see me in April!! Boo yeah!
Ok, this is quick and dirty, much like myself...heh heh...but I have to get reading done for class tomorrow. Just want you all to know that I'm alive, and will be updating more regularily!
Keep an eye out for the Venus Invaders that may enter your province, town, neighbourhood and homes!!
Keeping my eyes to the skies,
Venus